Over the years, the SUBWAY restaurant chain has built a strong reputation for offering customers a better alternative to traditionally fatty fast food. Here are some tips to reduce your blood fats, calories, and salt and increase the fiber in your next SUBWAY meal.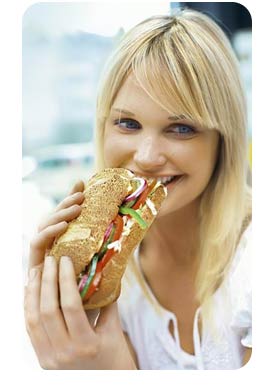 To reduce fat and calories
Many vegetables are naturally low in calories and fat free. For example, ask for unseasoned vegetables, green peppers, peppers or pickles.
Limit the amount of cheese, bacon and sauces.
Ask for mustard or vinegar in mayonnaise or oil.
To Reduce Salt
Limit items such as cheese, bacon, salt, mustard, mayonnaise, peppers, olives and pickles.
Top your sandwich with vegetables such as lettuce, tomatoes, green peppers and onions.
Season your salad with a mixture of olive oil and vinegar instead of dressing.
To increase fiber
Garnish generously your sandwich or salad vegetables.